Faux Leather and Venice Lace Corset
SKU: DG-9367
$39.95
$47.95
you save $8.00!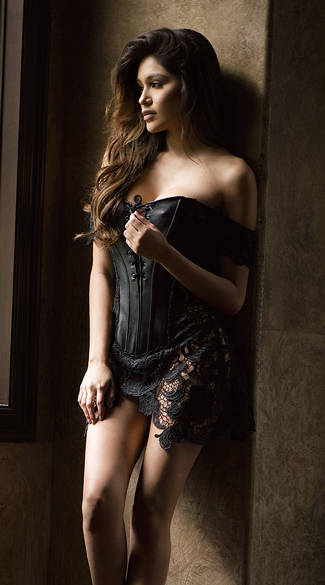 Command attention in this faux leather corset with attached black Venice lace, lace-up front, cap sleeves, zip up back and thong.
+

Size Guide
| Size | Waist | Bust |
| --- | --- | --- |
| 32 | 25"-27" | 32"-34" |
| 34 | 27"-29" | 34"-36" |
| 36 | 29"-31" | 36"-38" |
| 38 | 31"-33" | 38"-40" |
| Size | Waist | Bust |
| --- | --- | --- |
| 32 | 64cm - 69cm | 81cm - 86cm |
| 34 | 69cm - 74cm | 86cm - 91cm |
| 36 | 74cm - 79cm | 91cm - 97cm |
| 38 | 79cm - 84cm | 97cm - 102cm |
| Size | Waist | Bust |
| --- | --- | --- |
| 32 | 64cm - 69cm | 81cm - 86cm |
| 34 | 69cm - 74cm | 86cm - 91cm |
| 36 | 74cm - 79cm | 91cm - 97cm |
| 38 | 79cm - 84cm | 97cm - 102cm |
Having Trouble? Checkout our fit video.
CUSTOMER REVIEWS
super sexy outfit. True to your bust size. wish the mask would of fit, lace goes well together
I am in LOVE with this set! Very sexy!!! Great quality.
It''s a lovely piece, nice and sturdy even though it''s lacy. I got a size 32, and I can fit my 36" chest into it, and I think that works just fine. I actually tied the laces a bit tighter, and will be wearing pasties in case of any accidents. So I think it fits a little larger, since it''s also looser around my 25" waist. The straps are also pretty loose on my shoulders. For anyone looking for proper waist cinching, this one will not do the trick. That''s not surprising though, it is lace paneling after all. All in all, a great corset.
I''ve never been unhappy with any of my lingerie!! Yandy is the best !! Lingerie is very important in my life , thank you for all you offer !! One question , I''ve never once returned anything to you , but this item I want so bad , but it ran so small I can''t wear it!! Can I please plead exchange it for a larger one ?? Thanks !
I''ve had my eye on getting this for a while and finally did. However, I had to return it for a larger size. It runs small compared to my usual Yandy sizes. It was VERY easy to exchange! I can''t wait to get it back in the new size.
it is so beautiful but runs to small for a plus size. so im thinking of losing weight or lipo to be able to fit in nicer outfits. plus size is ok but skinner is sexier...
Item was smaller than advertised. Had to return for larger size.
Very thick material. Not at all what I expected. The mister enjoyed it quite well though. Said that he preferred this over the other item I tried on the same night.
I really like this piece but it definitely runs a size too big.
Good fit comfortable, exactly what was expected. love the leather and lace
This outfit is really nice - sexy and unique. Looks great with heels.
I was so excited about this product but so very disappointed when I received it. I am between a 32-34 but I decided to get the 32. It was very loose and would slip right off of me if I didn't hold onto it! Be careful if you order this.
Well made and very durable materials. Looks more expensive than it is. It runs large, however, so this garment is not ideal if you have a shorter torso. Im 5/5 125 w/ 34DD and a size 34 was too big and long.
I searched a number of vendors and this was, by far, the most classy outfit I found. I bought it as a gift. When my girl saw it, her eyes widened, she smiled, and she loves it! It's sexy AND tasteful. The quality is great. It's a very sturdy faux with a stronger, bigger gauge lace. We're both very pleased with this purchase.
I cannot say enough about this corset. It is so sexy I couldn't stop staring at it when I put it on. Looks more expensive than it is, in my opinion. If you want to excite, this is the item for you.